When it comes to the recovery and analysis of ecological evidence, such as human remains, there's no room for error. Law enforcement needs experienced forensic scientists accustomed to working on complex, high-profile and time-sensitive cases. Connect to our multidisciplinary team of accredited scientists, benefiting from a fast and reliable fully-managed ecology service. Read on to learn what makes our scientists a cut above the rest and how our comprehensive range of ecology services can benefit you.
Direct and rapid access to experienced forensic scientists
Top-level industry experts are at your disposal. Including Royal Anthropological Institute (RAI) accredited forensic anthropologists, as well as scientists accredited by the Chartered Institute for Archaeologists (CIfA), who've worked on some of the most high-profile cases in the UK and abroad. They can provide forensic advice and expertise 24 hours a day, 7 days a week. Or we can rapidly deploy them for scene attendance and forensics examinations.
The depth of our collective knowledge and experience makes us world-beating and is further bolstered by our extensive range of services. 
Every ecology service you need in one place
Most cases that require ecology forensics, such as disaster incidents or homicides, are multi-dimensional. Requiring a range of services to help progress the investigation. We've got you covered with our extensive selection of ecology disciplines, led by our experienced and dedicated experts.
Our headline fields include:
Accurate bone identification and human remains biological profiling
We can rapidly identify whether bones are of human or nonhuman origin to help close scenes or progress an active investigation. If the bones are identified as human we provide advice on the best way to proceed, whether that's scene attendance or radiocarbon dating (analysing carbon in the bones to see how old they are). We can also analyse human remains to generate a biological profile, as well as record any individuating features on the bones and teeth which might assist with positive identification, including past injuries and pathological conditions.
On-scene attendance and expert opinion of critical evidence
We can attend crime scenes and expertly advise on the search, location and recovery of human remains and other types of evidence, such as weapon cachets. All evidence and information is gathered and securely recorded. Maintaining information integrity when used in a court of law. We can also analyse ground disturbances, using methods like historical mapping, to determine important information such as a timeline of any changes. Helping to validate or discount areas, eliminating unnecessary work.
Expert study of insects and insect life cycles
We can collect and interpret insect evidence at either crime scenes, post-mortem examinations or the area surrounding a body of interest to estimate time since death. Taking into account environmental factors to deliver precise results. Our entomologists can also analyse insect evidence to reconstruct events between death and discovery of remains. As well as advise on the packaging and storage of living insects when preservation is crucial to the outcome of a case.
Rapid collection and analysis of plant evidence
Our accredited botanists can help link people to scenes (or scenes to vehicles or objects) via the collection and analysis of plant matter which could be used as trace evidence. While our knowledge of individual plant growth rates can help to both identify and eliminate areas of suspicion. And vegetation surveys can assist with the identification of track marks indicating routes into or out of crime scenes.
This is scratching the surface of our ecology services. We also specialise in:
Limnology — identifying the presence of microscopic algae (diatoms) to answer precise investigative questions, such as the location of drowning or movements of a body.
Palynology — pollen and spores recovery and analysis to provide information on suspect activity and as a means to direct searches in cases such as "no body" murders.
Soil examination — identifying soils as trace evidence that can provide links between suspects and crime scenes, or to create environmental profiles and assist in the direction of searches.
Our ecology service is fully-managed and tailored to your requirements. Expedite rigorous ecology investigations to help progress or conclude your case with easy access to the right expertise.
Driving the scale and quality of our ecology services
We're continually growing our services, limnology being a recent example of this commitment. Making sure you benefit from advancements in ecology forensics and have access to the biggest suite of services on the market.
As criminals become wiser to standard evidence types used by police forces, ecology is becoming even more critical to highlight trace evidence and identify human remains, among its other invaluable uses.
Leaning on external experts to support forensic investigations is one effective solution. We also offer bespoke training, covering all ecology forensics disciplines, aimed at crime scene investigators, managers and other police professionals. Develop your internal team to make sure the collection, analysis and preservation of ecological evidence is done efficiently and correctly.
Our ecology courses are approved for CPD certificated by the Chartered Society of Forensic Sciences (CSoFS)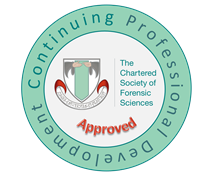 Connect with our accredited forensic scientists. Or learn more about our bespoke ecology training options by contacting us on +44 1235 774870 and science@forensic-access.co.uk.